What image comes to mind when you think about buying a property? Chances are it's the shiny marketing booklet of some fancy new condominium complex. Yet for all the marketing investment that goes into new developments, Malaysia's sub-sale property market represents the largest share of the nation's residential real estate market.
The question of primary or secondary property is a crucial one when considering your own property purchase. That means understanding the details is important. Let us guide you through the question of primary or secondary property market.
Firstly, what's the difference between the primary and secondary market?
Primary market is a term we use to refer to buying newly constructed properties. That includes everything from a towering new apartment complex to freshly developed landed properties. These properties are purchased directly from developers.
Secondary market refers to properties which are being sold by a previous owner – often known as sub-sale properties. These are residential properties which were previously purchased from a developer and are now being resold.
How big are Malaysia's primary and secondary property markets?
The clever data heroes at Malaysia's National Property Information Centre (NAPIC) were kind enough to provide reports on the latest market news. Thanks to the Malaysian Property Market Report 2018, we can take a look at the performance of the primary and secondary residential market.
Should you buy a primary or secondary market property?
If you're on the hunt to buy some property, you might be wondering which of these two markets is best. The answer is… well, it depends!
Why you might want to buy a primary market property:
When you buy in the primary market, you enjoy the benefits of being the first owner of a property. Think about how good that new car smell is, then multiply it into a car the size of an apartment! There's something very special about being the first one to own your new home.
When it comes to big apartment developments, this first-comer feeling can also add some nice flexibility. If there are a number of apartments in the development on offer, you might be lucky enough to pick the one on your preferred floor, or with the best view.
That fresh new feel also means that the new property has a lot less work needed to be done. In most cases you're moving into a finished and polished property, and while you might end up with a small list of things for a developer to fix, you're unlikely to need to rip out the entire kitchen and start again like you might with a sub-sale property. That standard warranty period from a developer for a new home is a strong selling point for some people.
The fresh property itself isn't the only benefit. Fresh developments mean fresh amenities. It's nice to know that the infinity pool on the 60th floor is quite literally in top condition, or that the new gym includes state-of-the-art equipment. Check out these new properties on Mudah if you want to see what we mean!
Buying property directly from developers can unlock other benefits. Developers often like to offer sweeteners to the deal such as rebates or cash back on deposits. You might even be able to negotiate to get a few extra goodies thrown in. If you're looking at the long-term game of a return on your investment when you sell the property, those financial incentives that drive the cost down at the start can be a strong motivator. That's why some people argue that a primary property can be a better investment opportunity.
Why you might want to buy a secondary market property:
A sub-sale property has its own set of unique benefits. It adds a certain 'try before you buy' that you don't often get with the primary market property. No, that doesn't mean you get to stay over for a sleepover before you buy the house. Ahem… Mudah does not condone unofficial sleepovers.
What you do get with the secondary market property is a real feel of the neighbourhood and a lived-in experience of the house. Sub-sale properties are likely to be located in mature neighbourhoods, giving you a good understanding of the community in which you will be living in and potentially be a part of. Be sure and check out if the neighbours have any weird habits…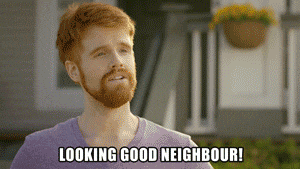 From a financial perspective, that experience can also add some certainty to house price valuations. The guide valuation price for a house is based on a comparison between similar properties and sales, balanced against various other factors. While the condition of sub-sale property can vary, you can still put together a good picture of what similar properties in the area have sold for. You can also get a better picture of potential rental prices if you're thinking about letting out your property.
Another big benefit of a sub-sale property is – the house already exists! Many primary property developments sell in the construction phases. That can mean a lengthy wait before you move into your new home. With a sub-sale property, you might only have to wait a month or two until the legal documents are completed.
So, primary or secondary market?
With all this talk of benefits, hopefully you've gotten a better idea of what might be the best choice for you. There are good points about both choices, whichever way you decide to go.